I am fascinated, confused and terrified in equal parts by the Middle East: a cradle of ancient civilizations, but also a source of seemingly permanent enmity between peoples.
The overnight news of the remote assassination at Baghdad international airport by a US drone of the second most important political figure in Iran appears both astonishingly brazen and geo-politically very risky.
I do not have the expertise to analyse the differing ramifications of this extra-judicial murder ordered by the US President. My guess is he has stirred - very violently - a hornets' nest yet again, in the world's most unstable region.
I have pasted several articles below that helped me understand what is going on.
Firstly, LBC radio - based in London- uploaded several tweets made by Donald J Trump, when he was a mere very rich businessmen, at a time when Barack Obama was US President, speculating on the political motivations for an American President provoking a war with Iran during a Presidential election year, (which 2020 is).
Trump repeatedly accused Obama of starting a war with Iran to win the US election
3 January 2020, 08:46 | Updated: 3 January 2020, 08:50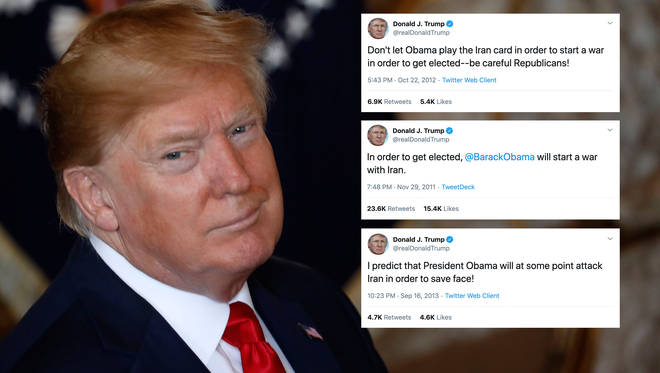 Donald Trump's old tweets have come back to haunt him. Picture: PA / Twitter
The President ordered an airstrike on Iranian general Qassem Soleimani in response to the attack on the US embassy in Baghdad.
However, tweets from nine years ago have emerged in which Mr Trump claimed Obama would target the Middle Eastern country to boost his popularity at home.
Here is an article from POLITICO middle east specialists:
And here are two articles from publications in the middle east, one in Middle East Eye from a more Arab/ Persian perspective, the other from Israel's leading liberal daily newspaper published in English, Ha'aretz. This includes a link to an article speculating that Iranian-backed 'sleeper' terror cells in the west could now be activated in revenge...